Best Brunch in Sydney: Your List of Weekend Café Hangouts
For those who take their breakfast seriously, these are the best brunch spots in Sydney you have to add to your list!
It's lucky then, that this city is stacked with epic brunch options. We have icons, like Bill Granger's ricotta hotcakes, we have must-tries like The Grounds, and then we have innovators and renegades like Three Blue Ducks and Nour. Some of these brunch spots are simply here to fill you up on a Saturday or Sunday morning, cure your hangover and show you how good eggs can truly be. Whatever brunch adventure you're after, Sydney's got you. Here are 14 of the best spots to brunch in this city.
Three Blue Ducks
BRONTE AND ROSEBERY
An easy pick for the top spot on this list, The Ducks has a strong reputation for dishing out some of Sydney's best brunch. An icon on their all-day breakfast menu has to be the corn fritters, served with guacamole, fermented cabbage, jalapeno, herb salad, labneh, and poached eggs. Throw in a lychee mimosa or a spicy Bloody Mary, and trust us—you're in heaven.
Quick Brown Fox
PYRMONT
Located in a bright, breezy sandstone cottage on a quiet corner in Pyrmont, there is something for every mood you're in at Quick Brown Fox. For a strong spin on a breakfast classic, try folded eggs with house-poached ocean trout, truffled crème fraiche, and black forest toast. For more of a dinner-for-breakfast vibe, the Koshihikari rice congee (pictured above) with chilli fried egg, enoki mushrooms, chunks of maple-glazed bacon, grilled cabbage, and chilli relish is all kinds of umami deliciousness.
The French toast is a thick slab of fruit loaf with toasted walnuts, cardamom, mandarin, and house-churned caramel ice cream—not too sweet and not too rich, but definitely as dreamy to eat as it looks. QBF has just scored a liquor license too—meaning, yes, spiked kombucha, Blood Marys, Negronis, Mimosas, and even bottomless brunches are all on the horizon.
Efendy
BALMAIN
Efendy is the hero of Sydney's most authentic Turkish fare (they literally air-freight baklava from Turkey each Wednesday). Their $35 brunch deal is inspired by the Turkish breakfast houses in Van, Turkey, and features plates (and plates) of pastries, Anatolian cheeses, olives, spreads, house-made jams, seasonal vegetables and fruits, pastirma and other hot dishes served in a board to share together with Turkish tea, apple tea or Turkish coffee. Some sage advice: come hungry.
Nour
SURRY HILLS
Nour is one of our favourite Surry Hills restaurants—for its stunning peach, pistachio, and purple interiors (by the legendary SJB Architects), for its serene approach to Levantine feasting, and for its bottomless brunch. Everything is designed to share, but if you're having trouble choosing we recommend opting for one of the two banquet options. You'll be treated to manoush cooked to order in the wood oven, Bekaa chicken wings, and Baalbek fried eggs, among other things. Oh, and 90-minutes of free-pour rose, espresso martinis, or Perian spritz.
A major standout here has to be the Al-muhuffin (pictured above). It's Nour's polished spin on a McMuffin, made with house merguez sausage, fried egg, batata harra hash brown, and toum. Divine.
Calla
PYRMONT
What happens when you charge a fine-dining chef with creating your brunch? You get Calla, that's what. This light and sunny spot is tucked away in the backwood of unassuming Pyrmont, and is led by Max Bean (Est, The Bridge Room) and Vicky Melitas (Palings, Bar Topa, Little Bistro). Expect house-made smoked-salmon terrine and a breakfast crème brûlée, alongside brown-butter scrambled eggs and house-made pork sausages. Back it all up with Bean's perfect made to order brown butter madeleines, served with strawberry and quince cream
We're also keen to sample their brand new dark chocolate and truffle thick shake. It'll be available from Saturday 27 June, and it's made with real black Tasmania truffles infused in cream for 24 hours. Swoon.
Benzin
DURAL
The first thing you'll notice at Benzin Cafe is cars. "The core people here at Benzin are all car enthusiasts and we created this place for the car enthusiast community themselves," says Benzin co-founder Daniel Karjadi. "A place where the groups and clubs can hang out during their meetups and get-togethers". Even if you're not a hot rod, Benzin is a solid spot for brunch.
On the menu, there are staples, like avo bruschetta, eggs your way, and an acai bowl with fresh fruit. But if you're ready to branch out, the homemade green tea waffles with poached pear, green tea icecream and pistachio are, in a word, a dream.
Goodfields Eatery
LINDFIELD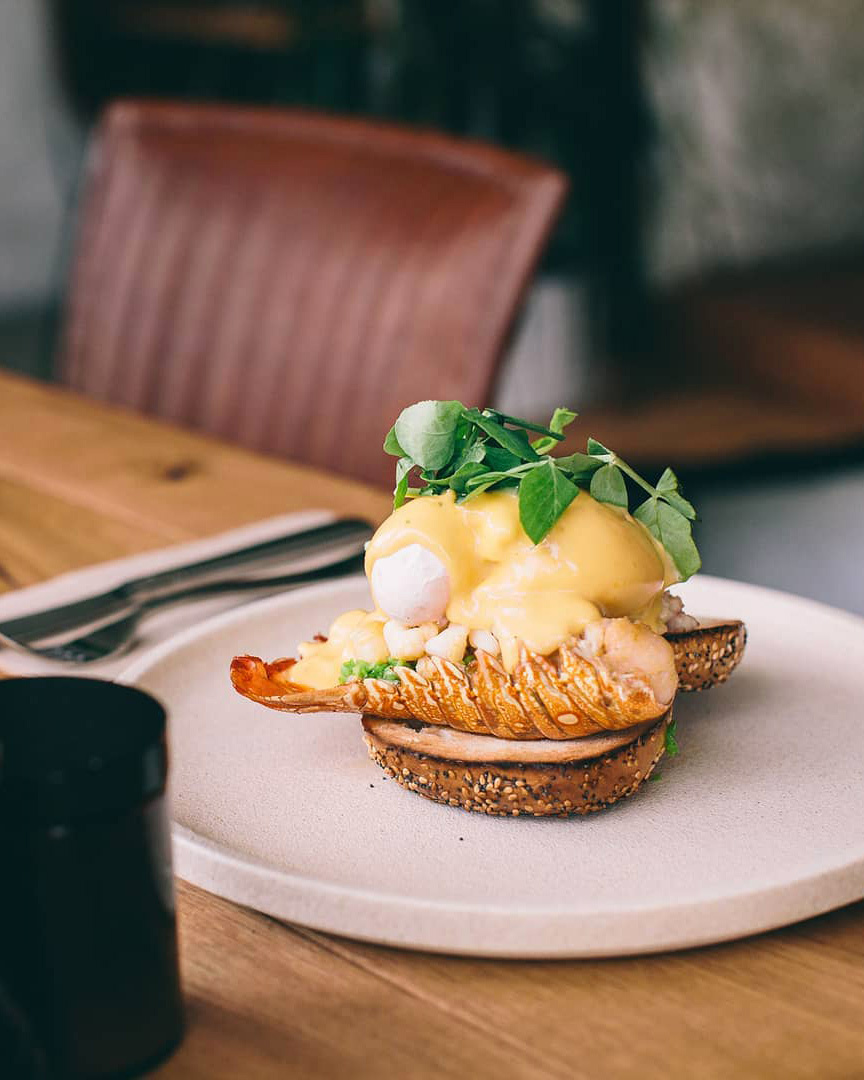 It's all about the good feels at this Northside brunch spot. It's also all about a butter-roasted lobster tail bagel with poached eggs and crustacean hollandaise—exactly the sort of over the top brunch concept we're into. Right now, their wintertime truffle menu has us drooling too.
The Grounds Of Alexandria
ALEXANDRIA
The Grounds of Alexandria is a must-do Sydney experience. Expect beautiful flower stalls, epic coffee, and a menagerie of farm animals. The breakfast dishes change seasonally, but a regular on the menu is a steak and eggs creation that'll have any human weak at the knees.
Blackwood Pantry
CRONULLA
Sydney's brunch game turned up ten-fold when Blackwood Pantry landed on the scene. Go for the Turkish poached eggs with yoghurt, chimichurri, paprika, oil, and mixed mushrooms, or the sweet potato and carrot fritters.
Oceans
NARRABEEN
Oceans is a spot to be wooed by the sweet and salty air of the beach over weekend brunch. Sure, if you live on the Northern Beaches maybe this is your lucky lot in life—but us city folk dream of mornings like this. As well as saddling Narrabeen Beach, Oceans has an extensive brunch menu that covers off tried and true basics like eggs bene, ricotta pancakes, and a perfect brekky wrap with runny fried egg, smashed avo, and housemade chilli jam. Our top pick? The crunchy corn and sweet potato fritters served with labne and gently roasted cherry tomatoes.
Reuben Hills
SURRY HILLS
For a perfect pit stop on the way to work, Surry Hills veterans always choose Reuben Hills. The boutique coffee roaster turned café has strong industrial vibes, a mezzanine roastery, and a gentle stream of sunlight pouring in from the back lane. Order the broken omelette roll with fried shrimp, rocket, bacon jam, and chipotle aioli on a milk bun. Wash it down with Reuben's espresso of the day for a next-level kickstart.
Bills
DARLINGHURST, SURRY HILLS AND BONDI BEACH
Bill Granger might as well be responsible for kicking off the brunch trend in Sydney. Bills is an institution—set up in 1993, the scrambled eggs here are still some of the city's best. It's also a place where everyone finds it acceptable to indulge in a spiced Bloody Mary at 10am (another reason it should be on this list). As well as those glossy eggs, Bills' famous ricotta hotcakes topped with banana and honeycomb butter is one of Sydney's most famous dishes. It doesn't get any better than this.
Went To See The Gypsy
ALEXANDRIA AND POTTS POINT
From the masterminds behind Gypsy Espresso comes Went to See the Gypsy—an eatery that's popped up in both Alexandria and Potts Point, serving up classic dishes with a slight twist. Step in as your nose fills up with the aroma of freshly brewed espresso and spices. The scrambled egg and bacon baguette with jalapeno mayo will send your taste buds shooting through the roof.
Social Hideout
WATERLOO AND PARRAMATTA
And, if it's an Instagram opp you're after, Sydney's famous Social Hideout—otherwise known as the Willy Wonka of cafes—is a spot for over the top feeds and 'Gram worthy scenery. Here, you'll find an all-day brunch that includes the likes of matcha green tea French toast with red velvet mascarpone, berries, and caramelised banana. Bonus points for their flower walls so you can get the most aesthetically-pleasing picture.
Love fried chicken? Here's a list of Sydney's very best juicy fried chicken.