Whether you're in town for the day, plan to kick it beachside for a salty staycay or you're escaping the city for the rolling hills of the Byron Bay hinterland, it's always best to plan your visit around food. From the must-try long-standing institutions to tasty newcomers and lesser-known eating spots, here's a handy guide on where to eat in Byron Bay.
Open Fri-Mon 5pm-9pm
A popular chips, chilli and chimichangas joint in a fishing-and-caravans town is taken over by two of the Australian food world's brightest young stars: Astrid McCormack and Josh Lewis. Tasty things ensue. What was Gringos is now La Casita, the casual Mexican offshoot of two-star wine bar Fleet. Everything you like about Fleet is here, only mostly outside, looser, cheaper and Mexican in inspiration. Expect a hip drinks list and savvy service culture from McCormack, a smart cocktail selection from Fleet partner Robert Mudge and, from Lewis, the likes of a ceviche of local snapper studded with fresh coriander seeds, shellfish oil and avocado, and tostadas topped with chunks of Ballina prawn tossed with chintextle, a nutty, spicy salsa that could be the XO of Oaxaca.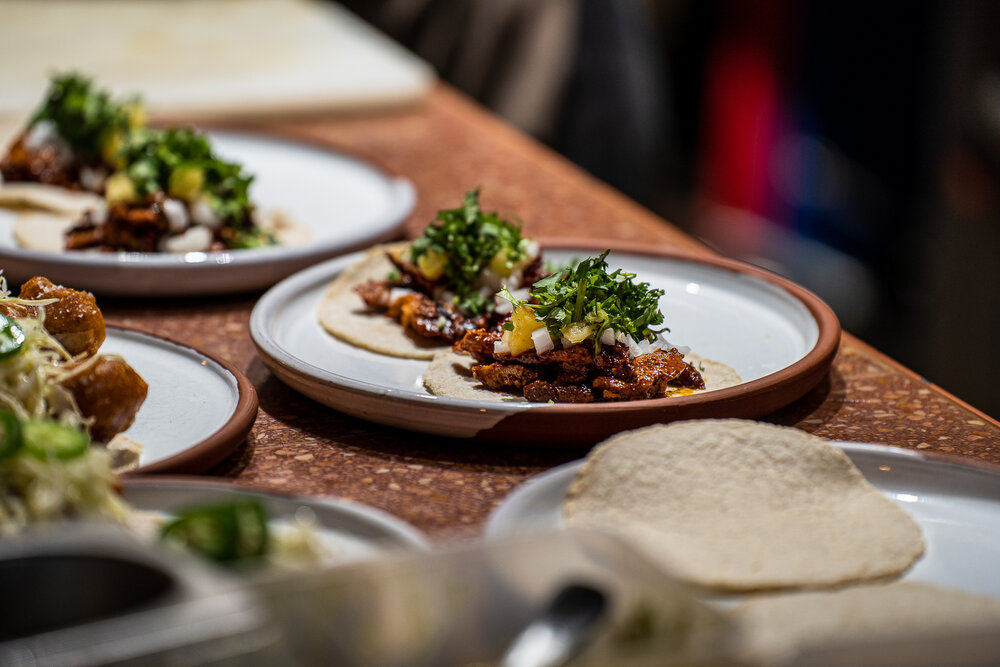 Open Mon-Sun 7am-3pm
Overlooking the sparkling Wategos Beach, the Dining Room at iconic five-star hotel Raes is the ultimate beachside dining spot. Head chef Jason Saxby offers both a three-course a la carte and five-course degustation, with a slight Mediterranean lean that's driven by the finest produce from the immediate region. For a more casual affair, there's the sun-kissed Cellar Bar (walk-ins only, open seven days from midday until sunset) serving seafood, bite-sized snacks and grapefruit negronis.
Open Tues-Sat 5pm-9pm
The backblocks of a shopping centre in the Byron Bay suburb of Suffolk Park might seem an odd setting for an eatery inspired by the cuisines of coastal Mexico, but incongruity is part of Chupacabra's charm. What could from the outside appear to be just another fajita place opened on the strength of no more research than a sun, surf and sensimilla Kombi trip to Puerto Escondido or Cancún, turns out to conceal quiet wonders. It's casual enough for local stoners and families to pop in for huevos rancheros and guacamole, or breakfast nachos on the weekend, but nuanced enough to round out that offer with suckling pig or grilled watermelon and pepita tacos. Chef Evan White and manager Amelia Stokes are passionate about their subject and are excellent hosts – never more so than when dishing up excellent whole grilled local fish to share in a DIY-taco situation with hot tortillas and a wealth of salsas and salads.
Open Mon-Fri 6:30am-3:30pm, Sat-Sun 6:30am-2:30pm
Opening in September 2020, Frida's Field – located on a working cattle farm in the quaint hinterland township on Nashua – is a destination dining spot serving the property's own sustainably grown ingredients across Saturday long lunches and soon-to-launch Friday dinners. The contemporary, country-style dining concept is a joint project between Edward and Jeanie Rawlings, owners of the Frida's Field farm property, and long-time Icebergs chef Daniel Medcalf. On Frida's menu, you can expect to see wagyu-Angus raised in surrounding paddocks and fresh produce plucked from its on-site gardens and orchards. Diners have to pre-book tickets to each sitting via the website.
Open Mon-Wed 7am-3pm, Thur-Fri 7am-8:30pm, Sat 7am-3pm
Great coffee. All-day great food, eat in and to go. Outdoor dining. The culinary force of nature that is Francisco Smoje, working his Latin-inflected elemental magic on the grill with hunks of meat, vegetables and superb seafood. You won't eat a better-cooked eggplant.
Open Mon-Fri 6am-2pm, Sat-Sun 7am-2pm
In true Byron style, this list effortlessly flips from high-end fine diners to a hidden gem tucked away in an industrial estate. Authentic Greek eatery Kouzina, located on Acacia Street, is a local favourite for big, fat Greek dinner feasts (Thursday to Saturday) and casual lunches (Thursdays and Fridays). Start with mezedes like dolmades, dips and kolokithokeftedes, then work through mains like village pie, papoutsakia, chicken souvlaki and lamb stifado. Save room for coffee and Greek sweets.
Want more? 
You'll find arguably the best karaage and temaki outside of Japan at unassuming eatery Japonaise Kitchen, while if you prefer a little bit of (literal) elevation, find the staircases to Balcony Bar & Oyster Co. and Loft Byron Bay. For a bite and a beer (straight from the source), the Stone & Wood Canteen at its Byron Bay brewery is open daily – it's run by the 100 Mile Table crew and slings beer-friendly eats like beef-brisket burgers, mustard-chicken terrine with pickled zucchini, relish and sourdough, and crispy pork belly.