Colourful people, stunning beaches and some of the best coffee in the world: Byron Bay's cafes are a big part of what make the town such a popular holiday hotspot. But there's more: Byron's cafes also boast some of the best menus in Australia, often filled with organic and locally-sourced produce and always served in style. It's one reason why the locals love these cafes too. And why the good ones are always packed. Make your next coffee in Byron one worth savouring. Check out our list of Byron Bay's best local breakfast cafes below.
Open Mon-Fri 7am-3pm, Sat 7am-9pm, Sun 4:30pm-9pm
Set on a working biological farm 10 minutes north of town, the Byron outpost of Sydney's beloved Three Blue Ducks is a sweet spot to linger over a plate of spanner crab scrambled eggs and a single-origin coffee, smug in the knowledge that every ingredient is sourced from as close by as possible. Farm animals and play equipment for kids make it popular with families.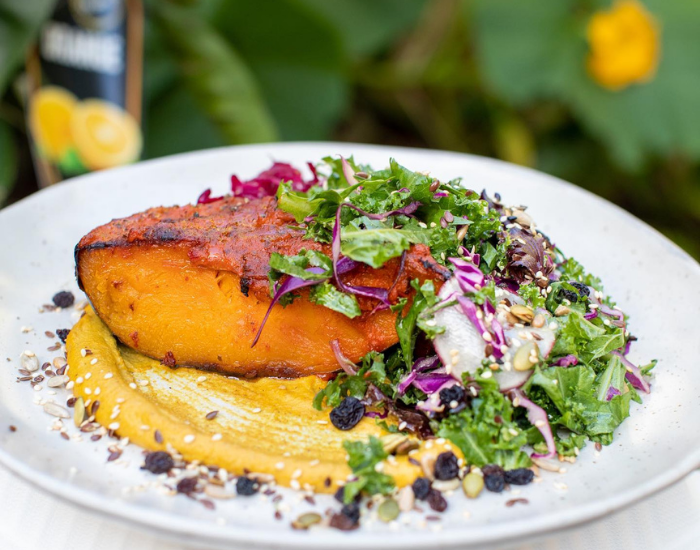 Open Mon-Sun 7am-2pm
Serving locals and travellers since 1947, Byron Bay General Store is a long-standing favourite in the Byron cafe culture. They source produce from only the best local and organic farmers in the area which directly translates to healthy, high quality food. Mostly a plant based cafe, this cafe is best known for its amazing smoothie bowls.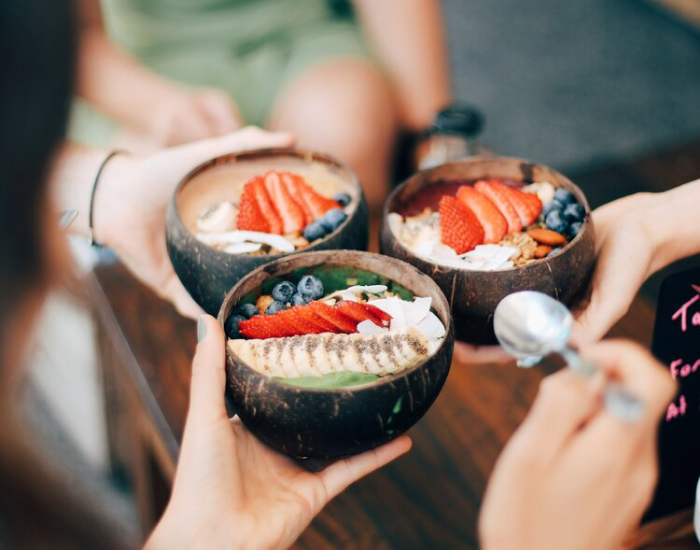 Open Mon-Sun 7am-2pm
You'll find true Byron vibes at Bayleaf Cafe! This busy and delicious cafe serves up breakfast and lunch, and is one of the best hot-spots in town. As well as their unique, wholesome menu, they also have a shop on premise, with cute homewares and packaged foods!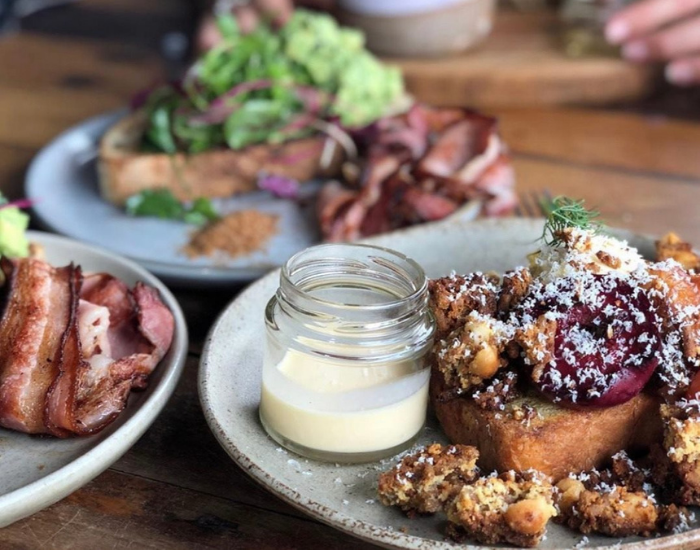 Open Mon-Fri 6am-2pm, Sat-Sun 7am-2pm
It's just a five-minute walk from the centre, but this former 1950s milk bar feels like a real find – until you see the queue for coffee, at least. Top Shop has limited seating, so meals are served in eco-friendly disposable packaging and most patrons stake out a patch on the grassy knoll out front.
Open Mon-Sat 6am-5pm, Sun 6am-4pm
Set against the hub in the heart of Byron Bay, Sunday Sustainable Bakery is a local favourite for delicious plates and enlivening coffee consumed in good conscience. Everything served is made in house, by the hands of their passionate artisan bakers from ingredients that are locally sourced, and organic wherever possible.
Open Mon-Sun 7am-2:30pm
How about a local coffee shop that's featured in Vogue but located in a holiday park? Head towards The Farm and, on the way, discover Folk: a great Byron cafe serving ethical, organic and seasonal produce. It's simple and delicious menu includes cold-pressed juices, flower-garnished smoothies and all the hot, cold and iced coffee options you could possibly want. Be warned: it's very easy to spend a whole day lounging on a blanket or sinking into a comfy chair in this coffee-lovers haven!
Open Mon-Sun 6:30am-2pm
If you love coffee, don't miss Espressohead on your visit to Byron Bay. This brunch hotspot has been around for over 15 years and is renowned for its quality house blend, as well as its extensive range of teas, smoothies and juices. Then there's the food, which caters to all cravings, whether you're hungry for French toast, homemade muesli, a build-your-own breakfast or a Vietnamese rice pancake with fried eggs, herbs and chilli-lime dressing.