From the best breakfast in Burleigh Heads to hip cafes in Mermaid Beach, there is no shortage of breakfast classics and firm favourites down in south-east Queensland. Narrowing down the haunts that are serving some of the best breakfasts on the Gold Coast hasn't been an easy task, yet here they are—our list of the best cafes on the Gold Coast that you need to try.
After a stroll along the sandy shoreline or carving up some waves down at Snapper Rocks at sunrise, reward your early exercise with brunch at the best cafes on the Gold Coast.
You can't talk about breakfast on the Coast without talking about Paddock Bakery—Toad in a Hole, Dippy Eggs and Nutella Bots, to name a few. With its whimsical garden setting, this pretty-as-a-picture Miami cafe has iconic breakfast dishes and wood-fired baked goods that we turn to time and time again. Paddock Bakery is one Gold Coast cafe deserving of a spot on your breakfast bucket list.
The beating heart of the Cornerstone Stones complex, Stable Coffee and Kitchen is one of the most aesthetically pleasing cafes in town, hands down. You'll be crushing on Stable's blush pink stone-top island table—the perfect Instagram backdrop for your breakfast plate—retractable floor-to-ceiling windows, courtyard seating, oak wood accents and artwork by local creative Claudio Kirac. While you're there, tuck into some of the most wholesome and artistically-presented breakfast and lunch dishes around, best followed by a spot of retail therapy at the adjoining boutiques.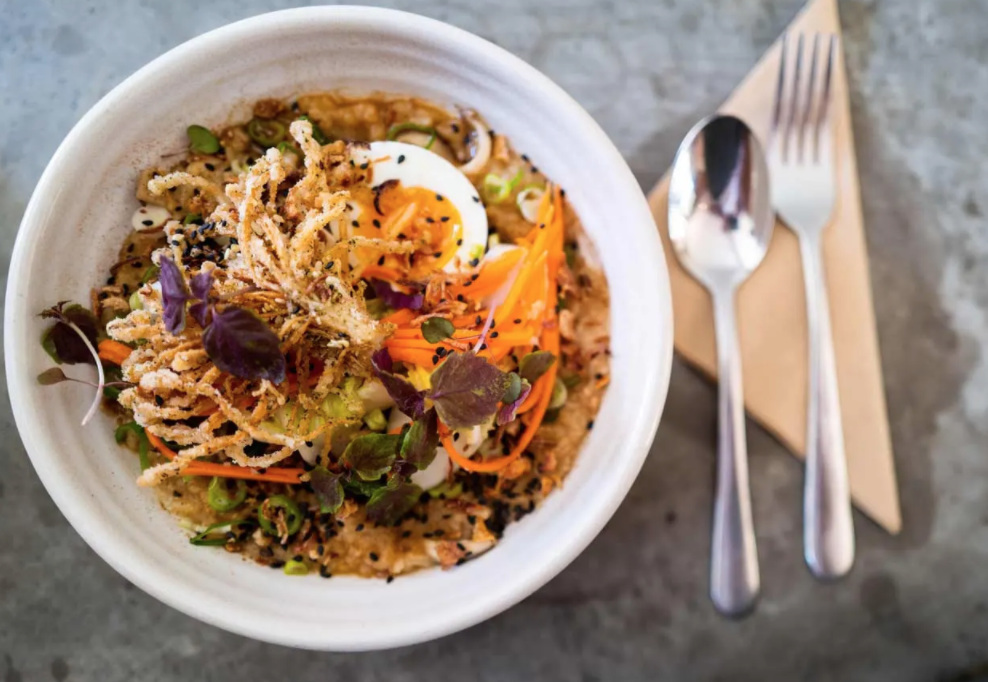 Allpress coffee, a vibrant series of breakfast, brunch and lunch dishes and laid-back vibes make Espresso Moto one of the southern end's most popular spots for caffeine and daytime eats. You'll need a few visits to work your way through the menu of favourites, and there are always a bunch of weekend-only specials to keep you intrigued. Mushroom and leeks with parmesan snow in a croissant, anyone?
The many northern folk that tend to travel south for their coffee and brunch fix let out a sigh of relief when Cross + Feather opened its doors. Located in the heart of Paradise Point, the relaxed daytime hang features a tempting breakfast, brunch and lunch dishes, as well as a fun series of cocktails. That's right – the idea of a boozy brunch is well and truly embraced here.
Nourish, relax, be mindful and repeat is the The Milkman's Daughter philosophy and we definitely don't disagree. This vegetarian café makes the plant life look (and taste) divine. With an 'eat consciously, live consciously' philosophy, you'll leave here belly-full of goodness whether you're ordering from the breakfast or brunch menu.
This mouth-watering Miami hotspot dishes up a great breakfast from its grungy ex-workshop digs. Fresh, colourful presentation is the name of their game with brekky staples like corn fritters, hash and French toast – but not as you know them. Your furry friend can tag along to this breakfast date too.
Looking for a Middle Eastern-influenced brekky? Head to the cosy tables of Canteen at Burleigh Heads where you can feast on local seasonal produce prepared fresh each day. This Aladdin's cave will satisfy all three of your breakfast wishes – great coffee, great food and a great atmosphere.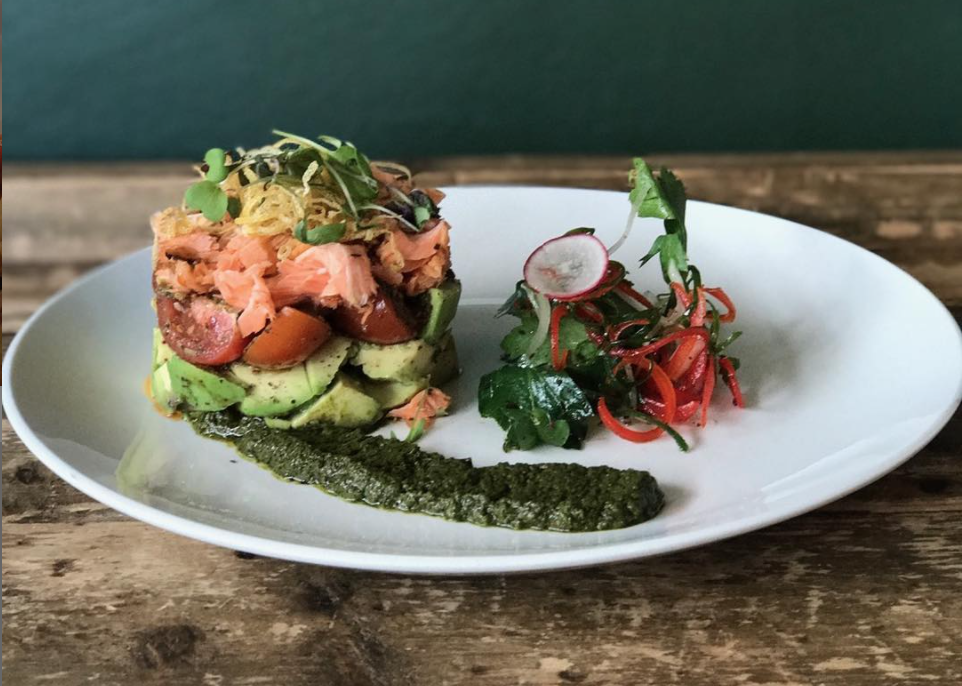 BREAKFAST IN NORTH BRISBANE
LET MINNOW CAFÉ | CLAYFIELD | KATSU CHICKEN TOASTIE
Talk about a party in the mouth. This toastie is chock-full of crumbed chicken, katsu curry sauce, tomato, slaw, and kewpie mayo.
HUSKK CAFÉ | GRANGE | THE BREAKIE BURRITO
We're rolling up to this northside spot for a spicy, smoky breaky in the form of a fat burrito – overflowing with beans, bacon, scrambled eggs, spinach, tomato, cheddar, and chipotle tabasco.
BLOCKHOUSE | NUNDAH | BEEF CHEEK
Woke up feeling a bit cheeky? Blockhouse's slow braised Wagyu beef cheek with pickles, chipotle hollandaise, and English muffin did too.
FUEL & CO. | NUNDAH | VANILLA BEAN AND BANANA HOTCAKE
Bananas and strawberries make this healthy, right? Maybe not after crispy bacon, fig and honey cream, and syrup are slathered on top… But we don't really care.
MY MISTRESS | CLAYFIELD | OH MY GEISHA
Say 'thank you, mistress,' for a Japanese-style cabbage pancake with bacon, fried egg, Kewpie mayo, house made otafuku sauce, nori, pickled ginger, dried shallots, and chilli.
BREAKFAST IN CENTRAL BRISBANE
KING ARTHUR | FORTITUDE VALLEY | APPLE PIE CROISSANT WAFFLE
Yes, it's all of those things. On one plate. We could waffle on all day about how delicious this dish is, but we'll let it speak for itself…
LITTLE LOCO | NEW FARM | GOLDEN GAYTIME WAFFLE
Tastes like childhood. Belgian-style waffle topped with ice cream, peanut crumb, sticky caramel sauce, chocolate lashing, and chocolate honeycomb dust. Quaking!
MISS JONES | NEW FARM | LLOYD'S BREAKFAST 
Little Loco's little sister, Miss Jones' Lloyd's Breakfast is super delicious and unique (ham and cheddar waffles anyone?). It also comes with bacon, poached eggs, spinach, tomato relish and avo on sourdough.
Decadent house-made honeycomb butter atop soft, ricotta hotcakes, drizzled with maple syrup. Best believe we're adding crispy bacon and grilled banana, as they suggest.
SCOUT CAFÉ | PETRIE TERRACE | BREAKY BAGEL 
We're huge fans of the simple, but effective. This bad boy is filled with a fried egg, kaiser bacon, cheddar, house relish, rocket, tomato and aioli.
They may have offended all Italians, but the cheesy carbonara with 63-degree eggs, field mushrooms, smoked pancetta and manchego is our idea of breakfast heaven.
LOKAL + CO | WEST END | BANANA DUMPLINGS
Don't use up all your attention taking in the uber chic Scandinavian vibe around you, or your breakfast buddy might just steal a bite of these dumplings doused in cinnamon sugar, with vanilla mascarpone, chocolate sauce and berries.
BREAKFAST IN SOUTH BRISBANE
LITTLE CLIVE | ANNERLEY | ROTATING WAFFLE SPECIAL 
It's like delicious Russian roulette. Which flavour will you get? Luckily, each special is as tasty as the next.
TODD & PUP | MOOROOKA | BLUEBERRY CHEESECAKE CRUMPETS
Decadent and fluffy, these house-made crumpets are topped with a cream cheese whip, candied lemon, blueberry preserve, candied lemon and lemon balm.
CAFÉ O-MAI | ANNERLEY | AUNTY FIVE'S CLAYPOT 
A traditional Vietnamese street breakfast, this comforting dish is packed with Vietnamese lemongrass pork sausage, mushroom, tomato and tamarind sauce with sourdough.
Get your freak on with Deedot's potato frico–complete with a potato and cheese pancake, poached eggs, chorizo chutney and gremolata.
LADY MARMALADE | STONES CORNER | CONFIT DUCK CHILLI CORNBREAD WAFFLE 
It's a mouthful, and that's just how we like it. A confit duck Maryland with pecan butter, fried egg, candied pecans and maple chilli sauce, served on a chilli cornbread waffle. Yee haw.
BREAKFAST IN EAST BRISBANE
PAWPAW | WOOLLOONGABBA | PAWPAW'S SIGNATURE HASH
For a meal that packs a yummy punch, hit up Pawpaw's potato hash cakes with poached eggs, turmeric hummus, smashed avocado, dukkah, haloumi and beetroot relish.
PICNIC CAFÉ | CAMP HILL | TIM TAM PANCAKES
Wham bam, thank you ma'am. Tim Tam pancakes will change your life as bites of strawberry coulis, Nutella, gingerbread crumble and vanilla bean ice cream hit your palate.
Spiced red lentils with coconut sambal, fried kale and toasted sourdough. It's as delicious as it sounds.
NEESH BAR | EAST BRISBANE | CRÈME BRÛLÉE FRENCH TOAST
Good morning and bonjour! This European delight is topped off with deep-fried custard, house granola, vanilla bean ice cream, fruit and caramel sauce.
SISTER CAFÉ | HAWTHORNE | BUTTERMILK ESPRESSO WAFFLES
Sisters are doing it for themselves, dishing up dishes that are almost too pretty to eat, like those STUNNING buttermilk espresso waffles. Yaaass sis.
BREAKFAST IN WEST BRISBANE
WILD CANARY | BROOKFIELD | GARDENER'S BREAKFAST 
Carnivores, feast on a generous plate of bacon steak, kranskies, poached eggs, grilled haloumi, tomatoes, mushrooms, avo and greens and sourdough toast.
This one has us shakshuka to the core. Dig into Israeli baked eggs in a rich tomato and capsicum sauce with chickpeas, house spice mix, feta, grilled halloumi and sourdough to soak that sauce up!
You can't help but drool just thinking about it… Panko crumbed mac 'n' cheese, poached eggs, hollandaise, shallot crumb, and your choice of bacon, chorizo, salmon, or halloumi.
PITCH + FORK | TOOWONG | PHILLY CHEESE STEAK
Spice up your morning with this classic American sandwich, complete with rocket, provolone, jalapeño relish, and fries.